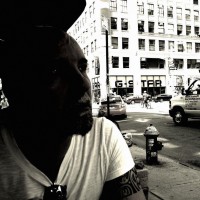 Carmine Chiriacò
Italy
My name is Carmine and I am a self-taught photographer based in Rome, where my passion for photography began in 2014. All my works have a photographic base. They are the result of captures made with an digital camera. The subsequent processing is only a continuation of the original photographic capture that is always maintained as a base. My work is a depiction of reality as I perceive it. I'm constantly asking myself to look beyond what is in front of me. I find myself gravitating toward scenes that are full of friction, distortion and movement, using photography as a way to share my perspective own reality.
"Chicago Skyline" won the 1 place in the Abstract category in the Monochrome Awards Grand Prix 2018. https://monoawards.com/winners-gallery/monochrome-awards-2018/amateur/abstract
"the man with Sandals" has benn selected as Top 15 in the Abstract category of the edition of the Malta International Photo Award, and won the second overall prize which is included in a photographic exhibition that will be holding at the Malta Postal Museum in Valletta starting from Febrary 16th 2019. https://www.maltaphotoaward.com/winners-gallery/?fbclid=IwAR1J7cwKVwYjXu7i8y3rcZvJkAA1YUttmSJAYzRqMRRc_iPxrICWAJFmCPMhttp://carminechiriaco.1x.com/
FINALIST - World's Top 10 Black & White Photo Contest 2018 OneEyeland ( https://oneeyeland.com/top-10/photo-contest/black-and-white/award_images.php?v=4&award_id=1311&year=2018 )
People's Choice Grand Prize Award 2017/18 https://1x.com/blog/permalink/8349 Photographer of the weeK : https://1x.com/blog/permalink/8220
Honorable Mentions at the Monochrome International Photography Awards 2017 in category Fine Art ( https://monoawards.com/winners-gallery/monochrome-awards-2017/amateur/fine-art/hm/6728/ ) .